Steven's Amazing Adventures,
and the Future of the World (PAGE 6)
(A Story about the End Times
with Messages from God)
I'm interested in various topics such as news, fiction writing, non-fiction writing, exposing the Illuminati / Babylon system, the end times, and studying the Bible.
Steven's Amazing Adventures,
and the Future of the World (PAGE 6)

(A Story about the End Times
with Messages from God)
You can copy and paste this post to have this story read aloud.)
(This story chronicles the adventures of Steven O'Neill, his wife Sarah, and their friends during the End Times. Judgment has already struck the U.S., and Steve and his friends have reached the vast continent of Asia. Witness the amazing things God will reveal about the coming kingdom of the Beast (or the Antichrist), the Mark of the Beast, and the Tribulation period. This story should keep you fascinated, as a realistic account of the future unfolds in the form of a fictional story.

But, this story is not just a story. It contains messages from God and prophecies that actually shall happen. It is written as fiction with fictional characters, but the message of the story is very real, and the cataclysmic events, touched on in this story, will actually impact this earth as God's Holy Bible and its prophecies unfold. The world will soon enter a time much like that portrayed in this story. I encourage you to seek God about this to see what He will show you.)

Copy and Print for Free!
Feel free to copy and paste this book or print it off at your pleasure. You can make as many copies as you want and save or print them. You can save this as a document. I offer this for free. I will make no money from this book. Just don't change the text by adding or removing words, letters, symbols, or numbers. I do this for the sake of getting the message out since we have little time left, compared to eternity. If you like, you can click here to print.
___________________________________________
"Doctrine of Faith"
_________________________________________
Under the leafy branches of maples, angelica trees, and oriental beech trees, a group of young Asians was gathered. They sat on folding chairs in a peaceful park that contained brooks, ponds, and manicured gardens. Sergey sat down on a bench nearby and listened to Guang Yan, an elderly Chinese man, teaching from the Bible. Sergey was glad, for the time being, to be in the The Mountain of Peace Village, a city of refuge provided by God for the blessing of His children during the last days.
"When God calls you to do a ministry," Guang said to his audience, "He equips you for it. It is not something you have the power in yourself to do. It is something that God does through you, as you look to Him to guide you. We are not able to do anything of ourselves, for God is the One who gives us the power to do all things that need to be done. In Philippians 4:13, Paul wrote: 'I can do all things through Christ which strengtheneth me.'

"He did not write that he could only do some things by God's power. No, Paul wrote that he could do all things through Christ who strengthens him. God is calling us to do what is humanly impossible for us to do. But, it is possible for us to do it through Jesus Christ our Savior, Lord, and God.
He is calling us to do what is possible only through Him. When we step out in obedience to God and His Word, we will see God, who is the faithful God, come through and do the miraculous. Let's turn to Deuteronomy chapter 7."
Guang paused so the young people could turned in their Bibles to the chapter. Pages rustled as they were flipped. In the trees above, finches, olive-backed pipits, and Asian emerald cuckoos chirped cheerfully and hopped through the leafy network of branches and twigs. The group below had prayed for several concerns including those mentioned by Sergey earlier. He was glad to have fellow believers on the same page. But, he felt a desire to take what he was learning and bring it back to Russia, where he had come from.
Once the pages stopped turning, Guang said: "In Deuteronomy 7:9, Moses said: 'Know therefore that the LORD thy God, He is God, the faithful God, which keepeth covenant and mercy with them that love Him and keep His commandments to a thousand generations;'*. When Moses speaks of keeping Father God's commandments, he is saying that when we obey God's Word and God's guidance, we will always see that our faithful, loving Father God will keep His Word, and will bless us. He will never fail us, nor forsake us. A scripture verse that many have heard of is Joshua chapter 1, verse 9, which declares that God is with us wherever we go. But, let's look at Joshua 1:8, the verse above it." [* Note: 'His' has been capitalized, when referring to God in all scripture verses.]
Pages started turning. Sergey, sitting on the bench, wished he had brought a Bible.
Once they had stopped, Guang said, "Joshua 1:8 says, 'This book of the law shall…[insert the verse here].' When we meditate on God's Word and obey it, we will prosper and have good success. That is the key to success that the world overlooks, I am sad to say. When people refuse to repent, and refuse to seek God, and have no interest in His Word, they become very hardened against God."
"Then, what they have sown, they begin to reap," Guang said, with sadness in his eyes as he scanned the small crowd. "Rebellion against God and His ways is the reason America was destroyed a few years ago.* It is the reason for wars, poverty, famine, pestilence, and suffering. Because many people do not seek God or desire to meditate on His Word and obey His Word, they are suffering from the results of their bad choices, I am grieved to say."
_________________________________________
[* Note: Because America has sinned greatly against God, God has shown many people that He will have to destroy America. He has been calling out to it, warning it repeatedly, but few want to truly repent from sin, and trust in Jesus, and put God first in their lives. Many have become brazen in their sins and have not wanted God's will in their lives. That is why America shall be judged in the near future.]
_________________________________________
"But," Guang continued, "when people delight in God's Word, and meditate on it, and obey it, they will have great success and will prosper. A 19th century German pastor, George Müller, chose to trust in God and His Word in a way that most Christians then and now don't choose to do. He chose to trust what Jesus said in Matthew 6:33―'But seek ye first the kingdom of God, and His righteousness; and all these things shall be added unto you.'* George Müller trusted that if he brought his every concern before his faithful Father God, and did God's will, God would be faithful to His Word, and would provide for all of Müller's needs. And, he believed God would provide for all his ministry with orphans and other outreaches."

[* Note: 'His' has been capitalized, when referring to God in all scripture verses.]
All eyes were fixed on Guang as he used some hand motions to highlight key points in his message. Many of the young people took notes with pencils on paper while they keenly listened.
Guang continued, saying, "To be certain he was trusting only in God for his needs, George Müller did not tell anyone about his requests, except for those who worked in his ministry, who also followed Müller's example. They did not share their needs with others, so that they could see God miraculously provide for all their needs. God always came through for them to provide so that all the children had the food, clothing, and materials they needed.
"One time the orphanage didn't have any food left for the children. Müller didn't tell the children about it. He simply told them to pray and thank God for the food He would provide. Once they had finished praying, a knock came at the door. They opened to see a baker who came in with many loaves of bread, saying that he couldn't sleep that night, and felt God show him to bake bread for the orphans because he felt that they didn't have bread for breakfast."
Sergey leaned forward, thinking, 'This is interesting.' He hadn't heard about George Müller before.
"Another knock came at the door," Guang continued. "It was a milk man. His cart had broken down outside the orphanage. Seeing that the milk would spoil, he offered it to the orphanage for free. I personally think they already had condiments for the bread, such as jam or honey. The point is that God will do the same for us as we trust and obey His Word. No matter what time period one lives in, if he or she trusts only in God and His Word, he or she will see it fulfilled on a daily or moment-by-moment basis."
The dark blue Nissan 2017 NV Passenger van pulled up before a white, two-story house which sat 154 yards from a white metal barn. Newer Landini tractors and Deutz-Fahr combines were parked under an open-air shed about 50 yards from the nice farm house, which had blue trim and gabled windows in the second story. Lying below the equator, this South African farm was experiencing the summer heat during the month of January. The wheat harvest would be ready in another month.
The van doors opened and the family disembarked. Mark Mzembi blinked to adjust his eyes to the daylight outside the van and took in his new surroundings. The five children headed toward the house while their parents spoke with each other and gazed at the fields of green wheat which was starting to look more and more yellow.
Having lost a motorcycle and most of his belongings to a group of thieves, who rode around in a newer Nissan pickup, Mark was glad to have a place to stay and a Christian family to give him room and board.
The head of the family, Sizwe Mahlangu, had offered him a place to live and to pay Mark to work with him on the tractors and in other aspects of farming. Though he had never farmed before, Mark had worked in his mother's garden, in Zimbabwe. He knew a little of about growing crops, but not much. The idea of farming was a little out of his comfort zone, Mark admitted to himself, but he wanted to try something new. And, he had nowhere else to go.
"Mark," Sizwe said, patting him on the back, "would you like to see how to drive a tractor and practice plowing a field?"
"That would be fun," Mark said, trying to be positive. But, deep inside, he still worried a little about his mom since Zimbabwe had begun to experience chaos after a dictator, Joseph Dashimba,* rose to power. [* Note: The last name is fictional.]
Sizwe chuckled and started walking with Mark toward a blue Landini 7-215 tractor resting under the metal, open-air shed.
"You're going to have a lot of fun with this creature," Sizwe said, motioning toward the shiny machine.
Once they reached the vehicle, Sizwe mounted a step and opened the door, presenting the cab to Mark. He described some of its functions and pointed out the controls for manipulating various hydraulic actions. The Landini tractor had a large, air-conditioned cab, containing a steering wheel and foot petals, a joystick, control levers, and a "roboshift" transmission. Buttons activated various gear ratios for different purposes.
Once he was through with the introduction, Sizwe said, "So, what do you think? Want to take it for a ride?"
Mark nodded, impressed by the controls.
Sizwe turned on a two-way radio and clipped it to his belt. Then, he told Mark how to power up the rig. The diesel engine roared to life as Mark turned the key. He followed Sizwe's instructions, and the machine moved forward, crunching over gravel as it pulled out of the shed. Soon, it was rolling down a gravel road toward a white barn with a blue, metal roof. A short distance from the barn, to the right, sat a large, white metal building.
"What is that building beside the barn?" Mark asked his host.
"It is a repair shed," Sizwe said. "That way, I don't have to work outdoors in bad weather when I do routine repairs or maintenance, such as oil changes."
"Do you have to repair your tractors often?" Mark asked.
"From time to time they act up or need to be serviced," Sizwe said. "I can do a lot of the repairs myself, but I find that these computerized systems are beyond my training. I have to hire a specially trained mechanic to work on the equipment."
As they approached the barn, Sizwe pointed to it and said, "You're going to go past the barn and you will see an unused field."
Mark brought the Landini tractor around the barn and into a dirt field, which was surrounded by a dense wood consisting of Apple-ring acacia trees and other deciduous trees and bushes. Sizwe had Mark pull into the field and stop. Then, he took control of the tractor and Mark left the rig so Sizwe could pull it up before a large tractor plow at the edge of the field. After a few minutes of connecting the plow to the tractor and securing it, they returned to the rig, and Sizwe guided Mark in tilling the soil.
The big machine pulled forward, tearing up the soil with its massive plow attachment. Chunks tumbled to the sides of the plow as dirt was displaced in long, tumbled lines. After they made several trips back and forth along the field, Sizwe's two-way radio crackled to life.
"Sizwe are you there? Over," his wife's voice said from his two-way radio, which was clipped to his belt.
Putting the radio to his mouth, Sizwe pressed the talk button. "Yes, Martha? What is happening in your corner? Over."
"You need to come and see the news," Martha said. "Come soon, if you can. Over."
"What news? Over," Sizwe said.
"You just have to see it. Over," she replied.
Mark and Sizwe stood beside a large, flat screen computer monitor in the Mahlangu's living room. Martha Mahlangu was seated before the computer in a corner of the large room, a short distance from some couches and a fireplace.
"You have to see this video. It is shocking," she said before clicking on a news website video.
A South African news anchor faced the camera from behind a shiny news desk in a state-of-the-art TV studio. The three listened closely as he related that several deadly terrorist attacks had simultaneously struck Johannesburg, Cape Town, Bloemfontein, and East London. The destruction was great throughout each South African city.
Mark let out a low whistle as he watched video footage of the aftermath. Sizwe just shook his head.
Entire buildings were reduced to rubble by powerful explosives secretly placed in them earlier. One of the buildings was a hospital, where hundreds of people likely met their deaths. Another was a food processing plant. The plant collapsed in on itself in an implosion, and hundreds of workers likely died. Rescue workers were just beginning to shifting through the piles of rubble in search for possible survivors.
In Johannesburg, thirty masked men blocked all entrances to a crowded shopping mall and drew machine gun pistols and Uzis from some vans. Ten others lurked on nearby rooftops to shoot at police, swat teams, or escaping shoppers. Coordinating their moves, they began gunning down crowds of people in the Johannesburg Central Mall,* which was very busy at the time.

[* Note: This particular mall is fictional. But, an attack like this could happen in the near future if terrorists decide to strike South Africa.]
The assailants tossed many grenades into the crowds, killing 173 and severely wounding 205 shoppers. At least 324 people were reported dead and 650 were severely wounded. The South African agencies responsible for preventing terrorist attacks were searching for the perpetrators of the highly lethal attacks and were baffled how they had not detected the terror threats beforehand.
"Let's pray and intercede for these people," Sizwe said after the video clip ended. "Our country is facing some very devastating events. I feel that it will only get stronger as South Africans come to the place where they either decide for or against Jesus Christ. Will they obey Jesus Christ, trust only in Him to save them, and forsake doing their own will? Or will they reject Jesus, and have nothing to do with His actual will?"
With his hands trembling slightly in fear, Mark nodded and said, "We are seeing unusual times for Africa. It reminds me of the troubles America faced before it collapsed."
"I pray that my relatives go where the Lord sends them," Martha said with concern in her voice. "They live in Johannesburg."
"That is where my dad lives," Mark said, feeling more fear attack him. He hoped his dad was safe.
"Let's pray then," Sizwe said, closing his eyes and looking up.
Sizwe began by interceding for the nation of South Africa and for the African continent. He requested that terrorists' eyes be opened to receive the Gospel and Jesus Christ as their Savior and Lord. He prayed for Martha's relatives and for Mark's dad, for their protection and for Abba Father God to bring them close to Him as they look to God.
Then, Martha prayed, saying similar things and adding prayers for the people suffering under the control of the Muslim Caliphate group, which controlled several African countries. Then, Mark prayed for his dad, his mom, and for his relatives in Zimbabwe and South Africa. After finishing, Sizwe and Martha looked up and praised God for how He would answer their prayers. Sizwe began singing the first stanza of the hymn "It's Just Like His Great Love". He finished with the chorus. [Note: Read the lyrics here at this link.]
"Praise God!" Martha said. "I trust He will take care of and keep my relatives safe, and Mark's dad safe too."
But, Mark felt fearful that his dad might have been one of the ones killed or injured. He needed to make a phone call soon, he decided. And, he realized, he needed to give the fear to God. After all, the loving Heavenly Father cared about Mark's family.
PART 13: "The Nature of the Antichrist"
"What do you think of Guang Yan?" Steve asked Sergey as they sat underneath the shade of a bamboo umbrella at a circular, mahogany table in Steve's back yard.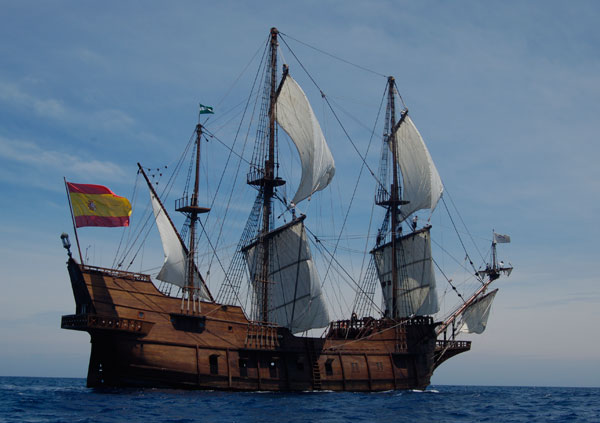 "...The Aztecs believed that their god Quetzalcoatl would appear as
a white man and would come back to them at some point in time.
The ancient Hawaiians also believed in a god, named Lono, who
would return to them. ... When Cortez and the Spanish with him
reached the Aztecs, some of the Aztecs thought he fulfilled
the ancient prophecies for the coming of Quetzalcoatl."
Steven and Sarah's single-story, two-bedroom house sat on a green patch of land where a small garden flourished. Several Japanese red-leaf maple trees dotted the yard. An electric lawn mower was parked in a small, wooden shed at the corner of the yard beside a white fence.
"He is a nice, godly man," Sergey said, sipping iced tea. "After hearing his talk, I have determined to trust God and His Word. I could see that the young people in that group, which Guang was teaching, were determined to make the choice to trust God. And, they inspire me."
Setting the glass of tea down, Sergey said emphatically, "I want to live like the Apostle Paul. I want to trust in God for what is humanly impossible. For, with God, all things are possible, if they are in agreement with His Nature."
After a pause, Sarah said, "So, Sergey, how do you feel about returning to your village in Russia?"
"I have," Sergey said, "a little reservation about it, but I want to go because I feel that the people there need to hear the Gospel and see the Gospel demonstrated."
"God had shown us," Steve said, "that we were to return there, but we didn't know exactly when, until God spoke to both me and Sarah while we were having our personal devotional times with Him earlier."
"When did He show you?" Sergey asked, leaning forward, placing his elbows on the table.
"Tomorrow," Steve said. "Some time tomorrow we were supposed to be translated back to your village."
"I will seek God about that," Sergey said, excitedly. "Excuse me," he said as he left the table and walked back into Steve's Chinese-style house through the back door.
"He seems more excited than he's been since arriving here," Sarah said, glancing back at the door.
"He sure is," Steve said. "I think he must have a heart of compassion for the people of Russia, his people."
"But, Steve," Sarah said, "the Russians have outlawed non-conformist Christians."
"Non-conformist?" Steve said, trying to remember what that referred to.
"You know," Sarah said, "they're people who are not Eastern Orthodox or who are not attending Churches that are officially monitored and regulated by the new Russian government."
"That's right," Steve said, remembering. "But, God will protect us."
Leaning forward, he said quietly, "I can see that Sergey cares about his people. I feel led to pray that Sergey will grow more in God's ways and in His Word."
"You want to pray now?" Sarah said.
"That would be good," Steve said.
Together, the couple prayed until Sergey returned outside a few minutes later.
The burly, middle-aged Russia appeared in the doorway. He tugged on a sleeve of his blue flannel shirt to roll it down. Then, he buttoned the cuff. His medium-length brown beard brushed against the shirt collar, bending it slightly at the edge, while he gazed out at the yard and at neighboring houses and gardens. Then, he casually placed a hand in a pocked of his wool trousers.
Sergey cleared his throat and said, "God has shown me that just you two, Jason, Alexei, and I will go. So, I wonder where Jason and Alexei are."
"Let's ask God to bring them over to this house. He will prompt them to come over if they should come," Steve said.
Together, they bowed their heads and prayed for the two men to be directed toward Steve's house. After the prayer, Sarah got up and went into the house. Steve and Sergey talked about light things for a few minutes before Sarah appeared in the doorway holding an apple pie that had been freshly baked and cooled a little. Underneath it were three plates and three forks.
Sergey's eyes perked up. "That looks delicious, Mrs. O'Neill," Sergey said. He remembered hearing someone in the park address Steve and Sarah as Mr. and Mrs. O'Neill.
"It is my favorite dessert to make," Sarah, said smiling as she set the plates and pie down.
As they began dining on the delicious pie, Sergey looked up in thought, holding a piece of pie in his fork. "Not to change the topic, but I wonder when the Antichrist will come and how he'll come."
"That is a different topic," Sarah said, surprised. "What made you think of that?"
"I am thinking about Russia," Sergey said, "and about the persecution that is intensifying in my country. I just wonder: when will the man of sin come into the world, or is he already here?"
Steve finished swallowing and said, "The Antichrist, God showed me, will come in the appearance of a man, but he will not be 100 percent man, like you or me."


"What will he be then?" Sergey asked before taking another bite.
"He will be part human and part fallen angel," Steve said. "The devil comes to kill, steal, and destroy. He has the power to engineer, with genetic technology, a hybrid which is both human and angel. By taking the genetic code of a fallen angel and combining it with DNA from a willing human, the devil has fashioned a creature that is a mixture of fallen angel genetic code and human DNA."
Sergey opened his eyes, baffled. "You're saying that the Antichrist will be a hybrid creature, and not a human?"

"That is correct," Steve said. "The Bible refers to the Antichrist as the Beast in Revelation 13 and throughout the rest of the book of Revelation. Now, since God does not give such beings a spirit, the devil puts demon spirits into the creature to give it a type of 'life.'"
"But, how could demons have technology? I thought they were spirits," Sergey said, focusing on Steve, with curiosity.
"Demons are smarter than humans and have influenced them for thousands of years. The Aztecs were influenced by their so-called gods to kill people in many ritual sacrifices. When Cortez and his men arrived in Tenochtitlan, the capital of the Aztec empire, the Spanish conquistadors were appalled by what they witnessed. Human sacrifice was rampant. At one point, the conquistadors, under Cortez's leadership, attacked the capital and eventually conquered the entire city and the Aztec civilization."
"The Aztecs," Steve continued, "and ancient civilizations in North and South America had technological abilities and astronomical knowledge of the stars that could only have come from fallen angels. An example of the amazing technology these people were familiar with is the Inca fortress of Saksaywaman. It is an ancient fortress on the outskirts of Cusco, Peru. Massive stones weighing many tons were cut with laser-like precision and fit in place like a jigsaw puzzle."
"What?" Sergey said, shaking his head in disbelief.
"Not only that," Steve said, "but the stones fit so perfectly together that there are no gaps between them. Some have speculated that aliens built the structures at Saksaywaman, but I believe that fallen angels were somehow involved in the construction of that fortress complex.
"Angels are inter-dimensional beings. They can move from one set of dimensions to another, or from the second heaven to the first heaven. Revelation chapter 9 speaks of a time when evil creatures that have wings will actually emerge from a pit in the surface of the earth, and will fly out in swarms around the world. And, men will see them. They have the power to sting people with scorpion-like tails, which will cause suffering to people for a period of 5 months.
"These creatures are described in detail as having heads of men with very long hair and crowns; breastplates of iron, proving that they have the upper bodies of men; lower bodies shaped like horses; and tails similar to scorpion tails. The fallen angel Apollyon is in charge of them, as their leader. The Bible does not teach that alien creatures exist. It only speaks of angels, humans, animals, or satanic hybrids, like the ones seen in Revelation 9:1-12 and Revelation 9:13-21."
"That is amazing," Sergey said, setting his fork down. "I did not realize that the creatures of Revelation 9 were literal beings people would see. I thought they might be allegorical representations of military weapons."
"If they were allegorical," Steve said, "then they would clearly resemble machines or equipment that looked like actual weapons or military equipment, such as tanks, aircraft, rocket launchers, or soldiers. But, what we read in Revelation clearly describes their appearance in detail. There are no machines, drones, or vehicles on earth that resemble the creatures described in Revelation chapter 9."
Sergey took another bite of his apple pie slice and thought for a moment. Then, he said, "So, why would God allow fallen angels to assist people in building those ancient structures you spoke of earlier?"
"The Bible says in 2 Corinthians chapter 11, verse 14: 'And no marvel; for Satan himself is transformed into an angel of light.' If the devil can look like an angel of light, then someone must be able to see him as an 'angel of light'. The Aztecs believed that their god Quetzalcoatl would appear as a white man and would come back to them at some point in time. The ancient Hawaiians also believed in a god, named Lono, who would return to them. Ship logs from Captain Cook's crew mention how the Hawaiian natives believed Cook was Lono. Returning to the Aztecs… When Cortez and the Spanish with him reached the Aztecs, some of the Aztecs thought he fulfilled the ancient prophecies for the coming of Quetzalcoatl."
"So, the Aztecs must have seen Quetzalcoatl appear to them long before Cortez arrived in America," Sergey said. "And, the Hawaiians must have seen Lono appear to them long before Captain Cook reached the islands."
"That is correct," Steve said.
"So, who would those gods be in reality? Satan?" Sergey said.
"Either Satan himself or another fallen angel," Steve replied, before taking a bite of apple pie.
"I guess ancient people would have to see the devil then," Sergey said. "The devil must then be able to come down and interact with people, and give them advanced technology or scientific knowledge."
"That is correct," Steve said. "The Bible warns us in 1 Peter chapter 5, verses 8 and 9, saying, '[8] Be sober, be vigilant; because your adversary the devil, as a roaring lion, walketh about, seeking whom he may devour: [9] Whom resist stedfast in the faith, knowing that the same afflictions are accomplished in your brethren that are in the world.'"
"Now," Steve continued, "the devil will only appear to people who give him enough legal permission by their choices. People who take part in sorcery, human sacrifice, and witchcraft can see the devil appear to them, but they are living in bondage and are in danger of eternal damnation."
"So, the devil will use his advanced technology to make some kind of hybrid creature that will be possessed by evil spirits, and this will be the Antichrist?" Sergey said. "I still don't understand how God would let this happen. It seems very strange."
"It is very strange," Steve said, agreeing, "but this Antichrist being will not have the full characteristics of a man. Revelation chapter 19 says how God will cast him and the False Prophet, who is also described as a beast, into the lake of fire at the end of the tribulation. This will happen before the rest of the wicked would be cast into the lake of fire, in Revelation 20."
"Okay, that is interesting," Sergey said, thoughtfully stroking his beard.
"You see," Steve said, "about a thousand years after the tribulation ends, there will be a judgment before God's throne. It is often called, 'The great white throne judgment'. All those who died and went to hell are brought up to the judgment. The record books are opened. All whose names are not found written in the book of life are cast into the lake of fire."
A light breeze cause branches to sway back and forth in the maple trees.
"But," Steve continued, "the Antichrist, or Beast, and the False Prophet both were to be cast into the lake of fire long, long before the great white throne judgment happens. They are not human beings, and they will not be given the same judgment as humans are given at the end of the one thousand year rule of Christ on earth. Now, at the end of the thousand year rule, Jesus will destroy this old earth and make a new earth in which we Christians will dwell forever. That is what the Bible teaches. You can read about this new earth in Revelation 21."
"I would like to study that," Sergey said. "That is interesting what you're saying, even though I can't completely understand it right now, but I will look into it."
Sarah stood, taking her plate, and said, "That's pretty mind-blowing isn't it?"
"It is," Sergey said. "I would like to talk about this topic more, but I think I've heard all I can handle for now. I need to get some exercise. Would you both care to go on a walk with me?"
"That would be fun," Sarah said.
"I'm up for it," Steve added.
A dense jungle surrounded him on all sides. Stump-tailed macaques and other macaques hooted and shrieked as they climbed through the tree tops high above. The monkeys sometimes could be annoying, the young jungle traveler thought, wishing they would stop their cries. The dense, rainforest vegetation kept him from seeing too far in front of him as Hu Zheng followed an animal trail through a jungle in Yunnan Province, China. As he walked, carrying a backpack filled with supplies he had saved up for his trip, Hu glanced over his shoulder from time to time. He had prayed and fasted for a couple days before he set out on his journey, leaving everything behind.
Hu pushed aside vines hanging from the branches of towering kapok trees. Wax jambu trees and Malabar-almond trees drew his attention whenever he saw them, but he knew that he would have to wait for the fruit to develop since it was winter and the rainy season was just about to start.
Hu's parents had said he should renounce his faith in the God of the Christians. But, Hu could not do that. He loved Jesus and did not want to forsake His Lord, Savior, and God. His relatives were atheistic communists and his uncle Bo was animist. It was his uncle who had told Hu that if Hu ever thought of becoming a Christian, he would put a curse on him.
Hu reached for a stick which poked out from under the leaves of a large fern plant. Using it, he climbed a steep hill, stepping over dead, fallen trees as he walked.
Hu knew that the blood of Jesus protected him from all curses. But, what concerned Hu was that his dad's sister had threatened to tell the communist authorities of Hu's decision to become a Christian, unless he quickly renounced his faith. He knew that Christians who were arrested were thrown into concentration camps where prisoners were worked to death, unless they renounced their faith, or changed their political beliefs. The camps were just as bad as the concentration camps from the '70s after the Cultural Revolution happened in China, some had told him.
Shortly after his 24th birthday, Hu began fasting and seeking God what he should do. He felt God speak to him and show him to go into the jungle in southern Yunnan. Now, Hu had been traveling through the jungle for two days. He had covered a little less than 40 miles during that time and had faced mosquitoes and snakes. But, when he prayed, trusting God's power and love, the creatures had left him alone.
A snapping sound came from the forest some distance away, causing Hu to turn to the left quickly. 'What is that?' he wondered, gazing into the dense undergrowth, but the jungle was too dense to see through. The bushes a stone's throw from him began to rustle, but Hu couldn't see what was causing the stir. Then, a branch snapped loudly and fear shot through his body. Hu felt he needed to find a place to hide, but if the thing causing the snapping was an animal, like a tiger, it would likely detect him if he were to move now.
Hu froze for a few seconds before he decided to hide in a cluster of bushes. Once he was concealed, he waited. The snapping sounds continued, followed by more rustling in the bushes. At last, the creature making the sounds came into view, partially concealed from Hu's view by his hiding place. A man shoved bushes out of his face and stepped onto the animal trail Hu had just left.
The man carried a backpack, a walking stick, and a map. He wore a blue workers' billed cap and a rain jacket. It was obvious that the man was trying to navigate the jungle, but he appeared to be somewhat new to the task. He stopped, dropped his staff on the ground, and unfolded the map, peering at it for a few minutes before he stooped down and set his backpack on the ground. Opening a pocket, he pulled out a compass and began trying to find his bearings.
Hu listened closely from twenty feet away as the man said, in Chinese, "Dear Heavenly Father, I don't know where to go next. I am lost in this jungle and this map isn't helping me. It doesn't show where I am. Will you help me to find the way?"
God's loving voice suddenly spoke to Hu: "My son, go over to that man and tell him that you are a Christian, and that you are also escaping from the communist government in China. I will guide you in what to do. That man is a Christian who is escaping from China. Do not fear. I will be with you. And, I the LORD your GOD and Abba Father have spoken."
"Yes, Abba Father," Hu said as he started to push through the bushes.
The man looked up suddenly and turned toward Hu, with fear on his face. "Who are you?" he said.
"I am a Christian, and you are a Christian too, I understand," Hu said.
"How did you know? Are you a spy?" the man asked, anxiously, standing.
"No, I am a Christian," Hu said. "And, God told me that you are one too. You can trust me. I am escaping from China and going where God sends me."
The man closed his eyes briefly and appeared to be praying. After a few moments, he opened his eyes again. "God has confirmed to me that you are a Christian indeed," he said. "So, I will trust you. You are escaping from the communists?"
"Yes," Hu said. "My aunt threatened to report me to the authorities if I did not renounce my faith, but I could not. I sought God what to do and He led me to flee into the jungle. I have traveled for two days. How long have you been journeying?"
"I have been here for three days," the man said, "but I started traveling from northern Yunnan after I felt God showing me to go into the jungle. God had told me the government was going to start thoroughly searching through Yunnan towns and cities for any Christians that could be found. So, here I am."
"Do you have any family such as a wife or children?" Hu asked, noticing that the man appeared to be in his late thirties or early forties.
"I left my wife behind," the man said, "because she did not want to come, and she is not a Christian. My son and daughter are young and have not yet made Jesus their personal Savior and Lord. But, I had to leave because I knew I would be taken from them unless I left."
"That is sad," Hu said. "But obeying God's call is far better than compromising with the world."
"You are right, my brother," the man said, smiling briefly. Then, after hesitating a moment, he bowed slightly toward Hu. "I am Cheng Yuan," Cheng said.
Hu responded by bowing slightly before he said, "I am Hu Zheng."
"Did you know if other Christians are out in the jungle, hiding away from the communists?" Cheng asked.
"I don't know," Hu said, "but I assume there are many that have gone into hiding in the jungles. I have heard that in some villages dozens of people are being arrested for being Christians, and are disappearing."
"I pray that our brothers and sisters in Christ will listen to the Lord's call and will go to places of safety," Cheng said before he pulled out the map and pointed at the colored sheet. "I wonder where we are in this jungle."
Hu stepped up to the map and scrutinized it for a while. Then, he said, "I cannot tell you where we are because I found this animal trail yesterday and have no map or compass with me. I am just going where God shows me or where he puts on my heart. But, I trust that He is leading us because God said in His Word, in John chapter 16, verse 13, that the Holy Spirit will guide us in all truth."
"Do you remember the exact words?" Cheng said.
"Yes," Hu said, squinting in thought. "It says, 'Howbeit when he, the Spirit of truth, is come, he will guide you into all truth: for he shall not speak of himself; but whatsoever he shall hear, that shall he speak: and he will shew you things to come.'"
"That is very comforting. The Holy Spirit does lead me. But, I want to listen to his voice better," Cheng said as he closed his eyes to think and remember scripture verses he had memorized.
Rainforest birds chirped and peeped from high branches in kapok trees. Distant monkeys shrieked and hooted, and their calls echoed through the forest. In the distance, dark grey clouds began to approach, floating over the tree tops, threatening to unload their water payloads on Hu and Cheng. Hu noticed that the atmosphere felt like it would feel before a downpour, where sheets of rain would drop from the sky. Hu was concerned his gear would be soaked, including his Bible, which he had placed at the bottom of the backpack.
"Dear Father God," Hu prayed, closing his eyes, "I ask that you will prevent the rain from soaking us. I know that you kept the fleece dry, and the ground wet, when Gideon asked, so he could be sure you were speaking to him. But, now we have the witness of the Holy Spirit to guide us. But, Father God, I ask you to keep us dry, while the forest gets rained on. And, I ask you to keep the ground dry where we will be sleeping tonight. In Jesus Christ's Name, amen."
In the distance, thunder boomed.
"I have a tarp we could hide under," Cheng said, reaching for his backpack, which still sat on the ground.
"I feel that God is going to do something awesome," Hu said. "Even with a tarp, the ground will get muddy, and our backpacks will get soaked through from the mud. God will do for us what He did for Gideon ― He will give us a 'dry fleece.'"
Cheng frowned, trying to figure out what Hu meant, but then he said, "Oh, you're saying God will keep us dry while the area around us is wet?"
"Yes," Hu said, looking up at the approaching clouds.
About thirty minutes later, the clouds reached them and began to cover the sky directly overhead. Hu had been praying all that time and Cheng had been viewing his map and pouring over scripture he had written down in a small notebook. He didn't have a Bible of his own. Someone had let him borrow a Bible for a few days, long enough for him to copy portions of it down.
"Maybe I should get my tarp out?" Cheng said.
"Just watch and see what God will do," Hu said. As he spoke, thunder boomed powerfully from two miles away. It sounded like an explosion had gone off. The sound of rain pelting trees from a few yards away reached Hu's ears, but he continued to put his trust in God.
Just as the rain was beginning to fall on the trees a few yards away, wind began blowing from the opposite direction, and the clouds started departing to south, moving away from Cheng and Hu's position. Not a droplet of rain had touched them.
Seeing the clouds drift away, Hu raised his hands toward the sky and ecstatically praised God for His goodness and love. Cheng stood to his feet and gasped, looking at the departing clouds, which were swollen with potential rain water.
"Praise God! He heard our prayers!" Cheng shouted. "This is a miracle!"
After worshiping God some more, Hu sat down on a rock. He was feeling a little tired and in need of a nap.
"Do you want to stop here for a short nap?" Hu asked his new friend.
"I'm fine with that," Cheng said, "but where do we go when night falls? I have a tarp. Do you have a tent or anything?"
"I brought a sleeping bag and a tarp to sleep on, but I have no rain tarp. I trust God will continue to protect me from the weather," Hu replied.
Suddenly, bushes twenty feet behind Hu rustled and a few twigs snapped. Hu turned quickly to see what it was and his eyes opened wide.